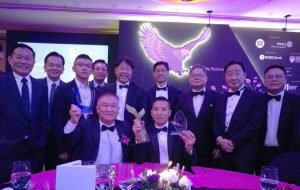 Concorde Security Pte Ltd is delighted to announce the signing of a Memorandum of Understanding ("MoU") with Blue Ocean Security Ltd on 23rd November 2017.
In conjunction of being conferred as one of winners of the Entrepreneur of the Year Awards, inventor Mr Alan Chua, the Executive Director of Concorde Security signed the MoU with Mr Donald Li Chi-chung, the Chief Executive Officer of Blue Ocean Security during the Award Ceremony at The Ritz Carlton, Singapore.
Donald Li is a former Superintendent of Hong Kong Police Force and has over 28 years of experience in tackling organized and serious crimes and narcotics, managing and securing large public events and chairing centralized police command centres.  He was commended and recognized on numerous occasions for his contributions by the Hong Kong Police Commissioner.
Both companies recognize the unique advantage of Concorde Security's patented business model and solutions to disrupt the market and Blue Ocean Security's expertise and access to "The Silk Road Economic Belt" markets and will collaborate in bringing about a more secure and safer way in protecting assets across these markets.
Concorde Security Pte Ltd is a multiple award-winning Singapore home-grown disruptor of the security industry using a technology and IP-driven strategy to transform its business – and its industry. It is now in the process of expanding its activities internationally, focusing on Asia, Europe and the USA with offices currently in Singapore, Malaysia and the United Kingdom.
Blue Ocean Security Ltd is an international company with the vision of embracing China's "Belt and Road" initiatives in providing customers with high-quality, all-round security services and becoming the largest security company in the Asia Pacific region.  It currently operates out of Hong Kong and London, and have projects as far out as in Africa.